Purpose of the TWG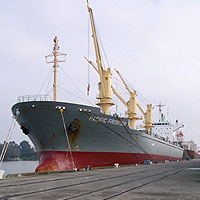 Welcome to the San Joaquin River Dissolved Oxygen Total Maximum Daily Load (DO TMDL) Technical Working Group (TWG) website.
The purpose of the TWG is to provide a public forum for discussing and disseminating technical information generated by the numerous California Bay-Delta Authority (CBDA) funded studies focused on understanding and solving the low dissolved oxygen impairment in the Stockton Deep Water Ship Channel. The TWG serves to inform the stakeholders involved in the DO TMDL process, and to encourage collaboration between the various scientists and engineers involved in managing and executing the various studies.
There are nearly two hundred scientists and stakeholders participating in the TWG meetings and message boards, many whom have prepared technical materials in support of the DO TMDL process. A complete list of these studies can be found under the Studies heading on this website. The TWG is funded by the Ecosystem Restoration Program within the CBDA.